Family Connections
Stephens County: Mrs. Noel Pauley, Director - director@stephensfamilyconnection.org
Stephens County Family Connection Stephens.gafcp.org
Stephens County Family Connection works diligently in the community to help connect the children and families in the community to resources available in the community. We are always keeping track of the latest data and information on our community to help connect those working in the community with the latest needs here. That's where the church comes in. Stephens County is blessed to have over 300 amazing churches in this community. And, our community relies on the church to help meet some of our biggest needs.
We would love to help connect your church with different ministries and opportunities to serve this community. Tugalo Baptist Association has been wonderful about sharing information and we are grateful for the partnership between the church and our community.
Different areas to help:
Foster Care Ministry- Has your church thought about serving the least of these by serving those in foster care? There are many different ways to get involved including hosting a care community, hosting the foster parent association for a monthly meeting, or even providing thank you gifts for foster homes. No investment is too small.
Mentoring- Family Connection hosts a mentoring program through the school system and we are ALWAYS looking for mentors. We would love to share with your church or groups about how easy it is to become a mentor but how impactful it is to students who need a stable adult. One hour, one time a week, for one school year is all it take.
First Steps- We also offer a program for moms in Stephens County who have children between the ages of 0-5. We strive to provide them with referrals and resources so they can be prepared to parent their children. If you would like to provide diapers/wipes or other items please let us know!
Trainings- We also are working hard to make sure our churches and organizations are up to date on how to protect our children. We offer Darkness to Light training for churches on how to prevent child sexual abuse.
And, beyond all of this, if your church has a ministry that God has been laying in front of you, please share it with me and I will do my best to connect you to people that are in need of that and help get the word out! We believe that together we all can make more of an impact than we can alone!
********************************************************************************************************************************************
Many of you have asked for details on the summer meal program through the school system. This program is for children and youth.
Hello Summer!
Summer is in full swing and I'm sure you all are finding yourself busy between vacations and trying to get work done when it seems like everyone else is on vacation! So far, no one has responded as attending our Child Abuse Roundtable. If you are planning to attend please let me know by Wednesday, otherwise we will plan another date.

Also, we will not be having a Collaborative partner meeting in July but will resume the meetings in August. We are looking for people willing to be a part of the collaborative planning team. If you are interested please email me and let me know.
Safe sleep classes being held in partnership with First Steps Stephens County Hospital and Dr. McKinney's office have been a huge success. We have taught over 50 different families the importance and basics of safe sleep and been able to provide them with pack and plays where their babies can safely sleep once they arrive.
Thank you to Shepherd's Hill Academy for highlighting what you do every day in our community and how we can partner with you in your work. Another huge thank you to Encounter Church for allowing us to use your facility for our meeting this month. We had a great turn out of over 30 people!
Upcoming Events
Click the underlined event for more details!
Child Abuse Roundtable

- scheduled for Thursday, June 20th at 10 am- please reply today if you can attend!

Tom's Creek Back to School Bash

(For Franklin and Stephens residents) Saturday, July 27th 9-12. They are currently looking for vendors to participate in sharing school supplies.

Campfire Georgia Back to School Bash- July 27 at the Doyle Street Pool. Currently collecting school supplies and children's books

Grandparents Support Group

- 1st Thursday of the Month

Summer meal program

for children and youth- ongoing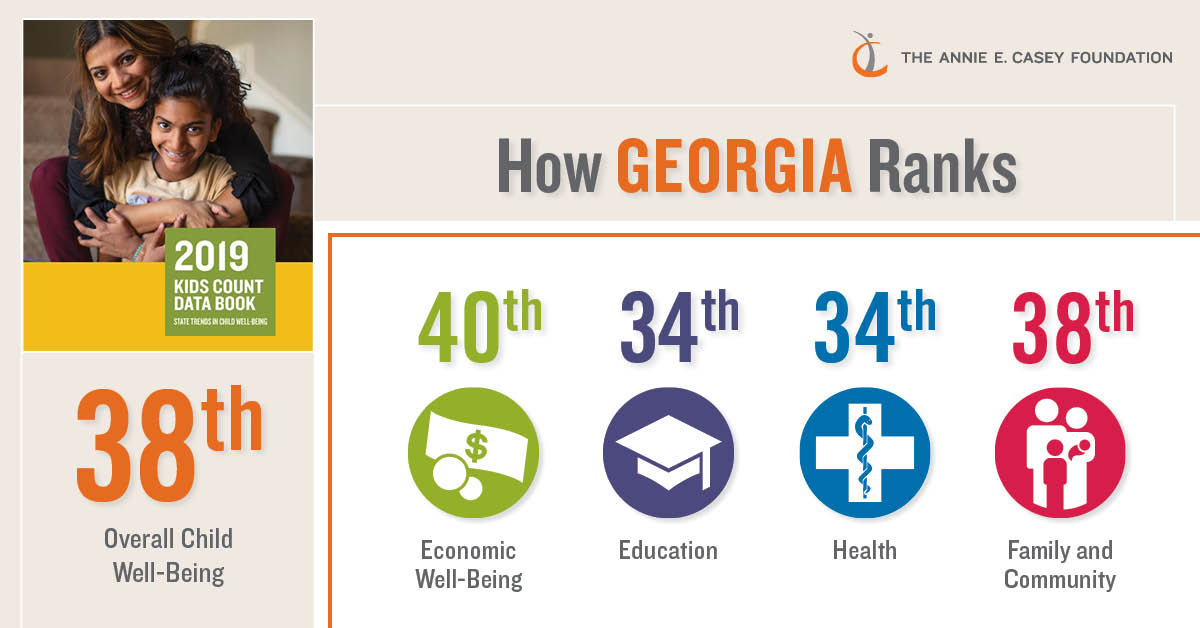 What does Family Connection even do?
Many people have wondered what exactly we do. Over the next few months we will be highlighting different aspects of Family Connection's role in the community. This month, we will focus on our data work! .

One thing that surprised me when I began work as the director here was the amount of data that Family Connection Partnership had access to and was able to obtain. It is the local Family Connection partnership's responsibility to ensure that data is distributed.

The newest edition of Kids Count Data was released TODAY! This tells us what ranking we are in comparison to the national averages. Thankfully Georgia has made some progress and we are now ranked 38th in the nation. We were ranked 48th in the nation in 1990. We still have lots of work to do but that improvement tells us that all of the work we are investing is helping. Please take some time to read our press release.